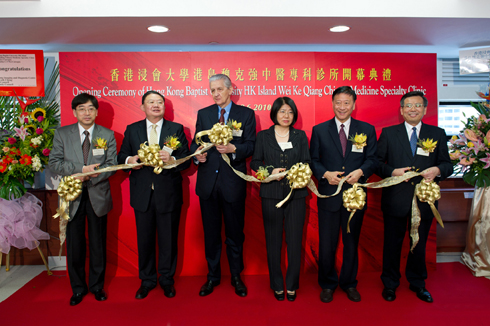 HKBU recently received a donation of HK$10.2 million from Mr. Franco Cutrupia, President of C.N.T. Limited, and Alumna Mrs. Pauline Wei Cutrupia, Managing Director of C.N.T. Limited, in support of the establishment of the Scheme of Advanced Clinical Training of HKBU Chinese Medicine Graduates and Chinese Medicine Treatment for the Elderly.
In recognition of the couple's generosity, the University named a newly opened Chinese Medicine Clinic the "HKBU Island Wei Ke Qiang Chinese Medicine Specialty Clinic" in memory of Alumna Pauline Wei's father. The opening ceremony held on 28 June was officiated by Mr. and Mrs. Cutrupia; Mr. Cheng Yan-kee, JP, Deputy Chairman, Council and Court, HKBU; Professor Ng Ching-fai, GBS, President and Vice-Chancellor, HKBU; Dr. Ko Wing-man, BBS, JP, Chairman of the School of Chinese Medicine Advisory Committee, HKBU and Chairman of the Hong Kong Anti-Cancer Society; and Professor Liu Liang, Dean of the School of Chinese Medicine, HKBU.
Guests who attended at the ceremony included Dr. Alessandra Schiavo, The Consul General of Italy in Hong Kong; Dr. Luca Fraticelli, The Consul of Italy in Hong Kong; Professor Albert S.C. Chan, then President and Vice-Chancellor Designate; and professionals from the Chinese medicine industry, supporters and friends of HKBU as well as staff and students of the University.